Mandela Day 2023 – An honour and a privilege
Posted on Tue July 18, 2023.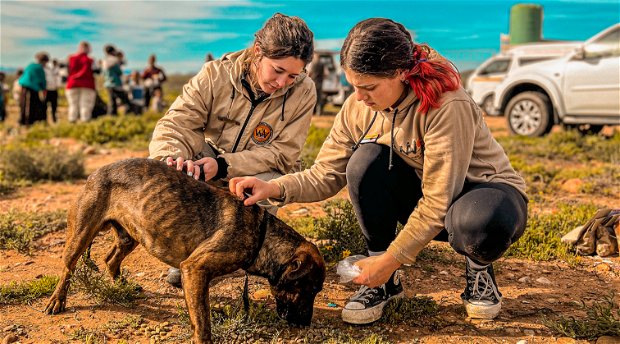 Today, we celebrate the life and legacy of a man who fought tirelessly for justice in our country. Nelson Mandela Day was launched in 2009 in recognition of Madiba's birthday on 18 July, via unanimous decision of the UN General Assembly. This day is a global call to action for citizens of the world to take up the challenge of spending 67 minutes of their day serving others and thereby following in the formidable footsteps of the great Madiba.
This year, we joined forces with the Animal Care Team and the State Veterinary Office of Oudtshoorn, and collaborated on an initiative for the community of Volmoed, on the outskirts of Oudtshoorn.
We collected donations of dog and cat food, blankets, toys, food and pre-loved clothes, linen and more.  The Cango Wildlife Ranch restaurant prepared 60 litres of soup and sliced bread for the community members, the Cheetah Preservation Foundation contributed sweet treats for the children, while the Wild Animal Volunteers and Interns contributed dozens of blankets, some school supplies, and much time and effort. The Animal Care Team, in partnership with Midlands Veterinary wholesalers donated much needed dog & cat food. We repacked the food into smaller quantities and distributed over 250 packets of food for the animals of Volmoed. Piet's Crazy Petshop donated R5000 worth of dog biscuits which was a much-appreciated addition! The State Veterinary Office of Oudtshoorn along with the Compulsory Community Service Vet (Zuma Year students) assisted with basic but important health care checks and treatments, and along with Animal Care Team, they have started planning their return to the community to facilitate dog and cat sterilizations.
"As a collective we understand the great need in so many of our Communities in Oudtshoorn and although we could only make a difference in one selected Community, we believe that it is in our hands to make a difference, no matter how small and insignificant it may seem" says Vanessa Engelbrecht, a manager at the Cango Wildlife Ranch and an organiser of the outreach project. 
We would like to extend our heartfelt thanks to all our suppliers, staff, volunteers, interns, friends in industry, like-minded organizations, and kind community members, for contributing towards this outreach initiative. It was a tremendous and heart-warming success, and without your assistance and support, it would not have been possible!
May we all be inspired by Mr Nelson Mandela's legacy, and may we continue to emulate his love, courage, resilience, generosity and unwavering dedication towards making the world a better place for all.