Help us - Help Our Planet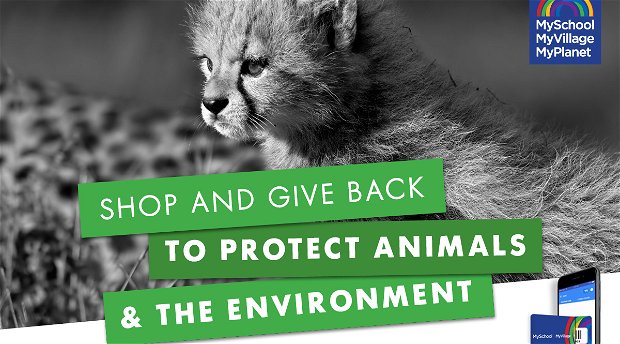 We're happy to inform you that our non-profit foundation is successfully registered as a beneficiary of the MySchool MyVillage MyPlanet Fundraising programme. Individuals are now able to sign up for a card, and choose our organisation as their beneficiary - or even as one of their beneficiaries!
The MyPlanet fundraising program was launched as an extension of MySchool to provide community-minded people like yourself, the opportunity to support a worthy cause close to their heart, without costing them a cent.
You can support The Cheetah Preservation Foundation every time you shop!
Our partners will donate a percentage of your spend to the charity you have selected, on your behalf. Most of you might already have the MySchool Card, and you can simply add us as a second beneficiary.
You can email your form to [email protected]
How does it work?
Get your free MyPlanet card (no monthly fees, no costs to you), when completing the application form and sending it back to us. Then, every time you shop at our partner stores, all you have to do is SWIPE! B y just swiping, you help the improvement and protection of the environment and animals we house.
To recap:
If you don't have a MySchool MyVillage MyPlanet card yet, simply apply for your free card now by completing the form below, and adding The Cheetah Preservation Foundation as your beneficiary. Then simply send the completed form to [email protected].
As soon as it arrives, we will send you your life-changing do-gooder card. 
Once you start swiping your card the charity of your choice will start receiving funds.
If you already have a MySchool card, but would like to add us as a charity, simply add The Cheetah Preservation Foundation as a second beneficiary - there is no need to get a new card! Send the below form to [email protected]  
Every swipe counts!
Why support The Cheetah Preservation Foundation?
The cheetah is the world's fastest land animal and they are dangerously close to extinction. Less than 7000 of the big cats remain in the wild. Dozens of species face extinction across the world, and many more are increasingly vulnerable and threatened.
As a proud conservation and education facility, we receive no government funding, which is an enormous challenge with the overheads that we face. People seldom comprehend the massive costs that we face on a daily basis. Our facility is owned by a family and receives no government financial aid/funding as a zoological premise. Every day we are faced with exorbitant running costs of maintenance, water, electricity, etc… in addition our primary focus is to ensure that all the animals receive the highest standard medical attention and a calculated varied diet (species-specific) good enough for any human to eat.
The Cheetah Preservation Foundation Ref: 12459
"The work done at the ranch by our dedicated staff takes on a whole new meaning when you realize that the people involved in saving animals and educating the general public, will never see the result of their work in their lifetime. Never the less, we will keep on doing our best to ensure that extinction becomes just another word in the dictionary and not a reality. We have seen man do terrible things but we also know that man is capable of great things and it is towards greatness that we at the Cango Wildlife Ranch strive." – Owner, Andrew Eriksen