Heartfelt farewell… our magnificent Taji
Posted on Fri November 10, 2023.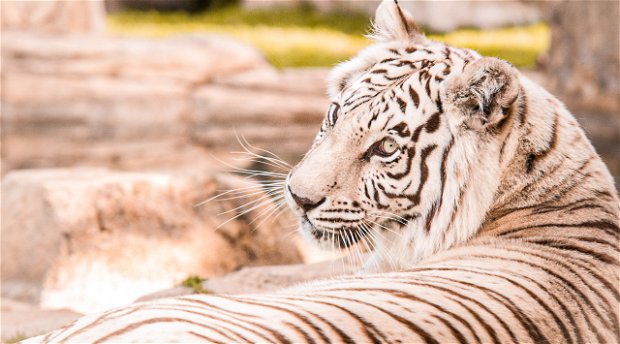 In the world of wildlife conservation, each creature holds a very special place in our hearts, and the love we have for the animals in our care is unparalleled. This week has been especially hard, as we bid farewell to a much-loved member of our animal family.
But 19-year-old Taji was more than just a Bengal tiger; she was a symbol of strength and resilience, whilst playful and affectionate, and so very beautiful in both appearance and nature. Born at our facility in 2004, she lived a remarkable life, captivating and educating visitors on her species and their ongoing plights in wild environments.
A few years ago, Taji developed an eye condition. After consultation with our vet, we were referred to an eye specialist and it was determined that surgery was required, which successfully took place in March 2020. The pathology results of the surgery indicated the presence of a malignant melanoma, but with great relief all cancerous cells were successfully removed. She made a wonderful and speedy recovery, but sadly, in May of this year, the malignant growth, barely visible to the untrained eye, returned. Once more, a successful surgery took place with encouraging pathology results, and she bounced back again. During this same month, we celebrated her 19th birthday, along with her wonderful recovery.
Sadly, in October, our Carnivore Curators detected a sudden mass developing under her left ear towards the back of her jaw. She was seen by our vet who took samples that were sent off for analysis. Whilst awaiting the test results, we noticed rapid changes in her overall condition and somewhat in her behaviour. By the time we received the results, in just a matter of days the mass had grown significantly, and the results confirmed a malignant pigmented round-cell tumour. Due to the diagnosis and the sudden changes in condition, we conducted an emergency meeting with our Ethics Committee where it was decided, that due to her age, the aggressiveness of the cancer, the limited and adverse treatment options and her well-being, the best and most ethical route was to provide her with euthanasia.
On 9 November, Taji, appearing weaker than before, was given some delicious treats, and made as comfortable as possible. Her doting carers provided her with her favourite peppertree branches, spritzed with a perfume she has always enjoyed, and sat with her for some time. Due to the incredible bond between her and her carers, they were able to sedate her by hand, after which she went and lay on her peppertree branches, rubbed her face on them, and peacefully went to sleep, before receiving the final injection from our vet.
The passing of Taji leaves a void in the hearts of our staff, her Cheetah Preservation Foundation supporters, and our Wild Animal Volunteers. But her remarkable life will forever serve as a reminder of the responsibility we bear in preserving the incredible diversity of our planet. As we mourn the loss of this majestic creature, let us also celebrate her legacy by continuing efforts to protect and cherish the natural world.
Rest in peace our dearest Taji.